The Alfa Romeo 4C Spider: Hot Looks, Cool Cruising
Since its return to U.S. soil in 2014, the famous Italian car-maker, Alfa Romeo has been a huge hit with its many enthusiasts.
They'd missed their friends from across the sea. Unfortunately, it had been nineteen years since we last saw a brand-new Alfa Romeo for sale at a dealership. Car lovers everywhere welcomed it back with open arms. And indeed, with slick vehicles like the Stelvio (an SUV crossover), the Giulia (a sports sedan), and the Alfa Romeo 4C Spider (a roadster) getting active reviews from auto critics, there was full reason to rejoice.
The Stelvio was (is) perfect for SUV drivers who want a little more bang under the hood for their buck, and who also crave the tight handling it provides around serpentine roads. These same things can be said for the Giulia when it comes to performance sedans. The Giulia is tight, fast, and stylish. What it isn't—what it never will be—is boring.
And then we have Alfa Romeo's fun little 4C Spider.
Let's go ahead and say this right now: Alfa Romeo has racing in its blood. Firstly, their cars regularly compete in and win Formula One events. And on the road, the 4C Spider's ultra-light carbon-fiber chassis lets its 1.75-liter turbocharged engine make you feel like you're driving a race car. The Alfa Romeo 4C Spider was designed to provide the driver with something few if any, roadsters these days can offer: pure automotive euphoria. A connection between human, machine, and road that far surpasses the banality of a daily driver and turns your time behind the wheel into a transcendence. With the 4C Spider comes Alfa Romeo's vision of a car bereft of gizmos and gadgets that distract from the driving experience.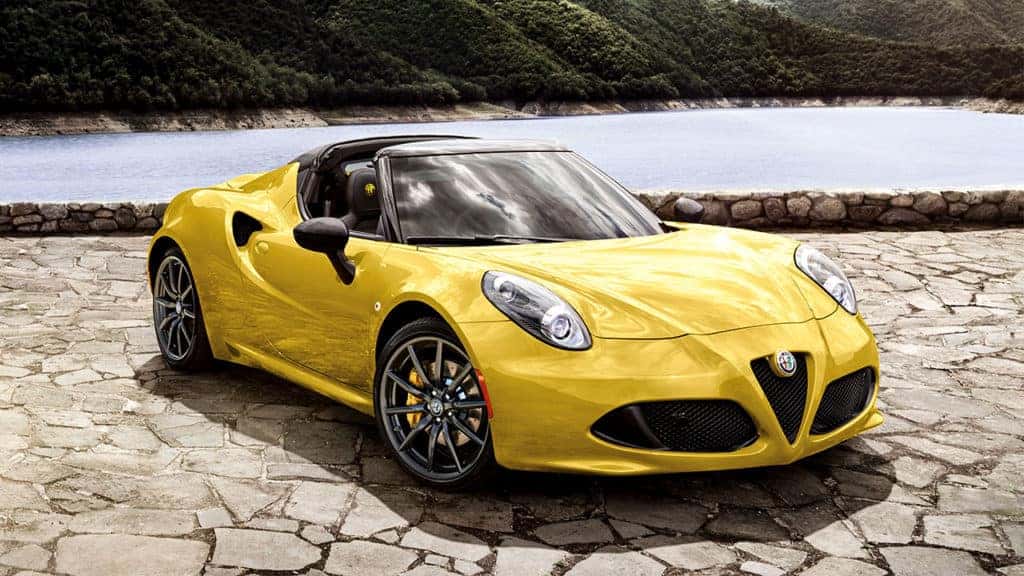 Are you looking for onboard Wi-Fi? It isn't here. Need a map? Unfold one, or grab your cell phone. The 4C Spider isn't interested in telling you where to go. All it wants to do is remind you what driving a car that loves to be driven is all about.
Ultimately, you'll thank it for that kindness after the two of you get acquainted. The Alfa Romeo 4C Spider is a 2-seat, open-top roadster that puts the wind through your hair as you drop the hammer for a rocket-launch experience toward the horizon. Moreover, it doesn't come with assisted steering or fancy navigation tech. On the contrary, this is a pure sports car from the heart to the mind to the road.
Ah, and here's a delicious question: What's new for 2020?
Glad you asked. An Alfa Romeo 4C Spider Italia has been made available. This limited edition Alfa Romeo vehicle is limited to 15 cars. It features unique exterior graphics, a new shade of metallic blue paint, aluminum dashboard trim, and a number plate on the console that tells the driver which specific manufacture model he or she has. Lastly, the Alfa Romeo 4C Spider is proof—if indeed any were needed—that Alfa Romeo holds a deep appreciation for the importance of not just getting from A to B, but finding joy in that journey from the machine that takes you there.