Meet Alfa Romeo's Newest Formula 1 Car, the C39
Alfa Romeo first took to the Formula racing at the British Grand Prix in 1950.
Since then, they have participated in 133 races, placing one/two in 4 of those races. This brand continues to perform decently well in racing, which is why it's such a famous brand. In recent years, improvements make people hope that they will score points to keep up with other brands like McLaren. Those hopes are undoubtedly alive with their newest car, the Alfa Romeo C39.
About the Alfa Romeo C39
The Alfa Romeo C39 was manufactured by the Alfa Romeo Racing organization to participate in the 2020 Formula 1 World Championship. The three drivers that are planned to drive in this car for these races include Kimi Raikkonen, Antonio Giovinazzi, and Robert Kubica. Originally this car was supposed to make its debut in the 2020 Australian Grand Prix, which was delayed due to the COVID-19 pandemic that has impacted the globe. This pandemic was also responsible for canceling Bahrain, China, and Vietnam races. Now the anticipated debut for the C39 is the 2020 Dutch Grand Prix.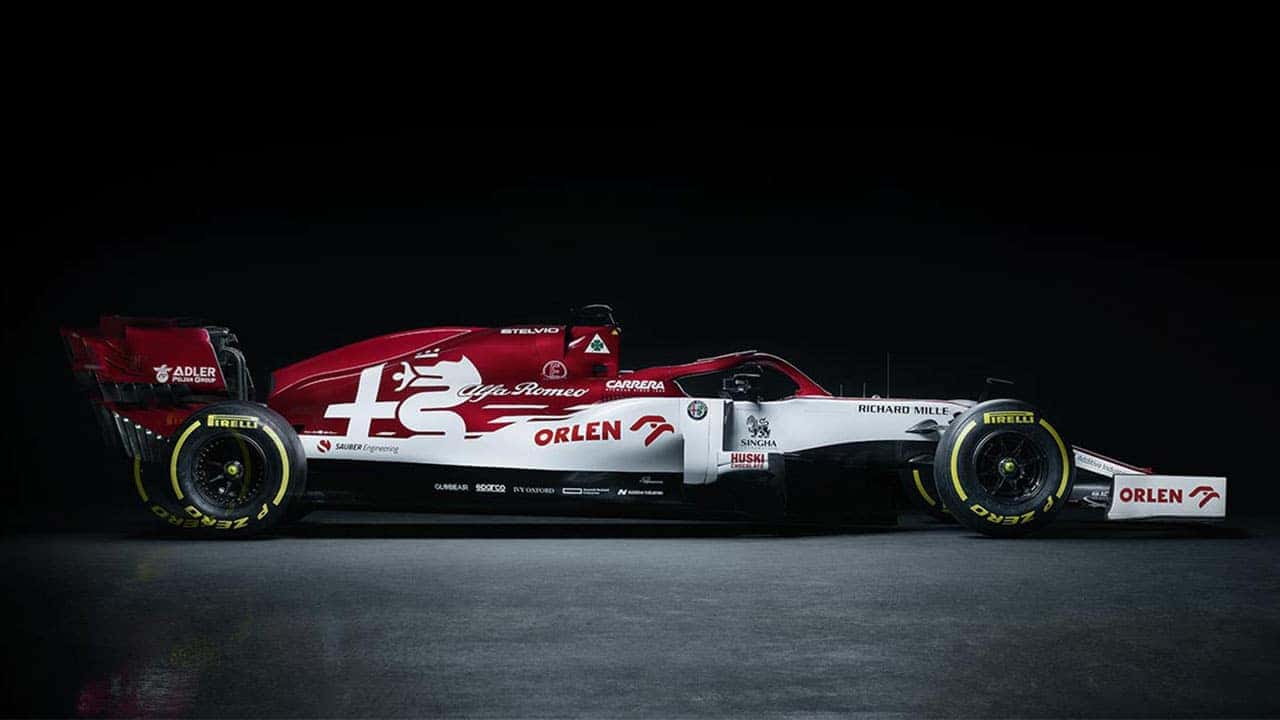 A Look at the Alfa Romeo C39
This car has a lot of buzz around it. When the teaser photographs were released across social media, people caught a glimpse of its sleek and stylish snakeskin pattern, which immediately drew fans to this new model. This unique pattern was inspired by the Alfa Romeo's logo, which famously features a massive serpent eating a man. The logo itself was inspired by the Visconti family, a highly influential family from the 11th century.
When the press release was offered about this new F1 car, it spoke of the symbolism of the snake shedding its skin to the latest innovation that they were about to offer fans of their racecars. They promised that the old skin of their previous models would be "shed," giving the car a fresh and sleek new look to overcome any challenges that they have up ahead. This model isn't last year's C38. It retains the inboard-loaded front wing design from last year, as well as similar-looking sidepods. However, this year shows a newly modified airbox design that was meant to mimic Ferrari's triangular roll.
High Hopes in Formula 1
There are high hopes for the C39 in the upcoming Formula 1 season. There may be many similarities between this car and last year's model, but the innovation and sleek design make it a stylish car that you'll love to watch. The test drivers of this car could already see everything that this car has to offer. It does retain a lot of the classic elements that you would expect of an Alfa Romeo car, but the goal is to start fresh with their new concept that has so much promise in their future races. It will be incredibly exciting to watch this car finally take off in its first race, which will hopefully take place soon. Then, viewers can decide if this car performs as well as it looks.